Sale
Brother Innov-is M370 Electronic 3 in 1 Sewing, Quilting & Embroidery Machine
Brother Sewing Range > Domestic Sewing Machines > M370

Brother 3 in 1 Sewing, Quilting & Embroidery Machine
The Innov-is M370 combination machine is like having three machines in one. Loaded with luxury advanced features for an affordable price, you'll love how easy it is to use. It is the ideal machine for hobbyists of all skill levels.

Featuring built-in embroidery designs, sewing stitches and embroidery fonts, this machine helps to bring another dimension to your creative. Other features include advanced needle threading, 7 point feed and extra-long zigzag foot for smooth fabric feeding.
Embroidery area: 10.25 x 10.25cm (4" x 4")
Convenient controls, a colour LCD touch screen, bobbin-winding system and drop in bobbin, super bright LED lighting and of course both sewing stitches and embroidery designs.
 Features:

1-step buttonhole • Friendly LCD display

Top load bobbin

LED sewing light

Instructional DVD

Auto threading system

Automatic 1-step buttonhole

Specs:


• Stitch types: 181; 135 embroidery designs




• Max. sewing speed: 850spm

• Max. embroidery speed: 400spm




• Max. stitch width: 7mm




• Max. stitch length: 5mm

• Weight: 6.6kg
Additional Add-on: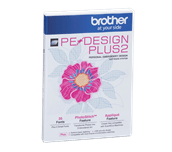 Take your embroidery to the next level and create your own design. The PE-Design Plus 2 is an amazing software suite for your embroidery machine. Turn your favourite photo or images into unique design and let your creativity run wild.
What's included?
Zigzag Foot, Zipper Foot, Buttonhole Foot, Button Sewing Foot, Overcasting Foot, Monogramming Foot, Blind Stitch Foot, Embroidery Foot
Plus
Detachable Embroidery Unit, Embroidery Frame (10 x 10cm/4 x 4 inch), Grid Sheet Set, Embroidery Design Guide, 3 Pre-wound Bobbins (60 Weight White Embroidery Bobbin Thread), 4 Bobbin Clips, Needle Set, Twin Needle, 2 Bobbins, Seam Ripper, Scissors, Cleaning Brush, Eyelet Punch, Disc-Shaped Screwdriver, Screwdriver, Extra Spool Pin, Spool Cap (Large/Medium/Small), Spool Net, Thread Spool Insert (Mini King Thread Spool), Bobbin Case, Foot Controller, Accessory Bag, Hard Case, Operation Manual, Quick Reference Guide
Resources:
Brother Sewing & Craft Consumer Warranty
Brother International (NZ) Limited is the authorised New Zealand distributor of Brother Sewing and Craft Machines and is referred to in these Terms and Conditions as Brother or us or we.
This warranty covers all newly purchased Brother Sewing and Craft Machines provided that they are used for domestic or household use.  If you purchase a Brother Sewing or Craft Machine and use that machine for a commercial use, that machine is not covered under this warranty, but may be covered under the Brother Sewing Commercial Use Warranty (the terms and conditions of which can be found by contacting Brother here).
5 Year Warranty
Where you have purchased a Brother Sewing or Craft Machine with an RRP that is more than $1,000 (including GST), the 3 Year Warranty period does not apply and you are instead entitled to a warranty that your Brother Sewing or Craft Machine will be free from defects in manufacturing and materials under normal use for five years from the date of purchase from a Brother authorised retailer or reseller (proof of purchase is required).
How to Claim under this Warranty
In the unlikely event that the machine you have purchased has a defect or is not operating as it should, please call our NZ based Helpdesk on 0800 329 111 or click here for FAQs and user manuals. 
Your Brother NZ Helpdesk representative will:
attempt to help resolve your issue by consultation; and
if not able to be resolved by consultation, provide you with the details of your nearest Brother Authorised Technical Service Provider.
You may also, with valid proof of purchase, return to your place of purchase who will arrange for your machine to be repaired by a Brother Authorised Technical Service Provider. 
What this Warranty Does Not Cover
There are a few things this warranty does not cover and these include (but are not limited to):
Replacement of accessories and consumable items, which occasionally require replacement, and maintenance kits.
Damage caused by accident, neglect, misuse, abuse, improper installation or operation, acts of God (unpreventable event caused by the forces of nature), foreign matter entering the product such as liquid, moisture, insect infestation or dirt.
Damage caused from service, maintenance, modification or tampering by anyone other than a Brother Authorised Service Technician.
Damage caused by the improper use of non-Genuine1 Brother Products.
Using the machine other than for its intended purpose or in a manner contrary to any product manuals or instructions. For example, use on electrical voltages other than shown on the rating plate, or use with the serial number or rate label removed.
Machinery purchases outside of New Zealand.
Any compensation or remedy other than the compensation and/or remedies set out in the section titled 'How to Claim under this Warranty'.
Any indirect, incidental or consequential loss, cost or damage to an Eligible Customer (including but not limited to loss of revenue, loss of profit, loss of opportunity, loss of goodwill and wasted time).
In addition to this warranty, you may have rights under the Consumer Guarantees Act 1993, which provide coverage for goods and services purchased for personal, domestic, or household use.  So, if the machine you have purchased is being used for business purposes then you (as the purchaser) acknowledge that neither this warranty or the Consumer Guarantees Act 1993 apply to your Brother Sewing or Craft Machine.  You also acknowledge that no other warranties either express or implied by law are made with respect to this machine (except as Brother may offer under its Brother Sewing Commercial Use Warranty).
Recommended Servicing
Servicing your machine regularly helps to maintain optimum performance.  We recommend that your Brother machine be serviced a minimum of once every 12 months, depending on usage. If you need help finding a Brother Authorised Service Technician, please contact our 24/7 NZ based Helpdesk on 0800 329 111.
General Conditions
Brother reserve the right to refuse any claim under these Terms and Conditions should we determine that you are not a bona fide claimant, have provided us with false or misleading information, or that you otherwise do not meet the criteria set out in these Terms and Conditions. You must respond to Brother's reasonable requests for information so that Brother can assess the validity of any claim under this Warranty.
Brother will not be liable for any failure to fulfil its obligations under these Terms and Conditions to the extent that such non-fulfilment results from circumstances beyond its reasonable control.